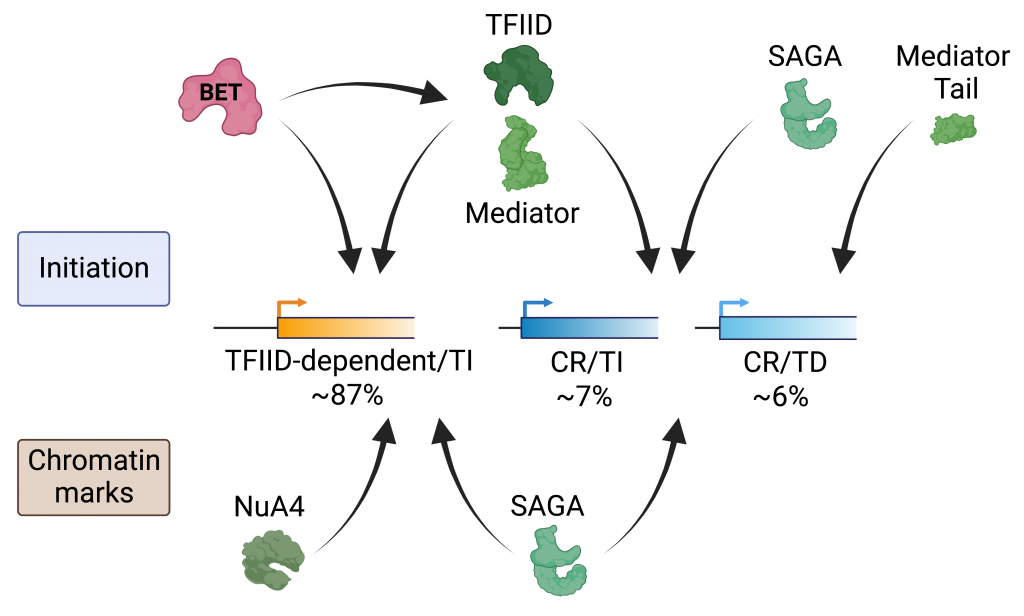 We are interested in the fundamental mechanisms of transcription of mRNA coding genes in eukaryotes. We aim to understand what aspects of transcriptional regulation differentiate healthy and disease states of human cells. Ultimately, we hope to reveal specific dependencies of a given cancer type thus paving the way for development of new targeted therapies. To achieve these goals, our lab utilizes a broad range of approaches including functional genomics, proteomics, biochemistry and molecular biology.
A high-level conservancy of factors and pathways involved in transcription across eukaryotes allows us to use the powerful yeast system as our primary model. In parallel, we test our hypotheses in mammalian cell lines with special focus on the mechanisms which become hijacked during malignant transformation and tumor progression.
Recruitment, regulation, and roles of chromatin readers from the BET family
We recently characterized yeast bromodomain-containing factors Bdf1/2 as functional homologues of the human BET family of epigenetic readers. The best studied member of the human BET family, BRD4, was implicated in emergence and progression of many types of cancer and immunoinflammatory conditions. Despite considerable efforts the roles of human BET factors are poorly understood.
Building on our findings in yeast cells, we will investigate the fundamental mechanisms of transcriptional regulation facilitated by BET factors in eukaryotes. We will also explore how is BET recruitment to chromatin regulated, especially what mechanisms allow cancer cells to bypass bromodomain inhibition that may underlie the failure of therapies targeting BET bromodomains. BET factors affect transcription of the majority of genes in both yeast and human cells, but they also likely have gene-specific functions. The ultimate goal of our studies is to reveal what features of BET biology can be exploited as specific vulnerabilities of different human diseases.
Differences in coactivator specificity and regulation of distinct classes of eukaryotic genes
Results from our and other labs defined BET factors as general coactivators of transcription of mRNA coding genes. Coactivators with genome-wide functions also include TFIID, Mediator, SAGA, NuA4 and others. Eukaryotic genes are often divided into two broad classes – housekeeping and regulated. Importantly, in human cells highly regulated genes are overrepresented among tissue-specific genes involved in development and differentiation.
Our earlier works characterized most yeast housekeeping genes as predominantly dependent on TFIID, NuA4, Mediator Core module and BET factors, while regulated genes as dependent on TFIID, SAGA and Mediator Core and Tail modules to facilitate transcription initiation. At the same time, all yeast transcription requires SAGA histone acetyltransferase activity. Based on our previous findings and the available data from human cells we recently proposed that the interplay between BET factors, TFIID and Mediator is a common feature of eukaryotic gene regulation, with possible variations to these mechanisms between distinct classes of genes.
We will characterize in depth the relationship between BET factors, TFIID and Mediator focusing on the tissue and cancer-specific differences. Our aim is to reveal unique dependencies and druggable targets. We will also explore the contributions of other coactivators to transcription of different types of eukaryotic genes.